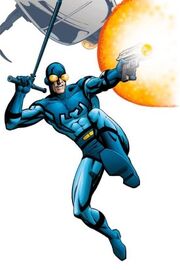 Blue Beetle. It feature Ted Kord, on his
crazy
adventures in Chicago! An humoristic story, about one of the greatest men of all time... the Blue Beetle! With Booster Gold, as a recurring partner, and pal.
Characters and Cast
Sebastian Spence as... Ted Kord/Blue Beetle. Eric Martsolf as... Michael Jon Carter/Booster Gold  ? as... Reynold Gold
Recurring Characters
Jason Brandt Bartlett as... Jaime Reyes Nicholas Cage as... Dan Garrett Liam Neeson as... Jarvis Kord
Ad blocker interference detected!
Wikia is a free-to-use site that makes money from advertising. We have a modified experience for viewers using ad blockers

Wikia is not accessible if you've made further modifications. Remove the custom ad blocker rule(s) and the page will load as expected.