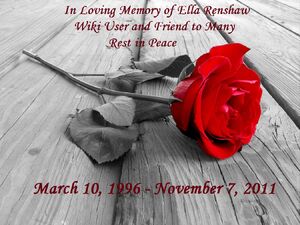 Hello fellow users, I'm sure you have heard of the recent death of former user TomWellingIsHot, her real name Ella. The reason for this was the constant abuse and cyberbullying she suffered from former user Cloisfan1, his real name Danny.
Ella was a dedicated user, as well as a brilliant author and very kind-hearted and mature person. She contributed to this wiki more than most of us, and befriended most of us. She was also a member of the V.S.T.F., the Volunteer Spam Task Force, a group dedicated to stopping cyberbullying and spam across the wikis. In honor of her work and commitment, and to prevent this from happening again, I ask that each of us join thisVolunteer Spam Task Force and finish what she started. I'd also like to thank those who join ahead for their cooperation in our effort to keep her alive through the work that we do and through the changes we try to make.
I send my condolences to her friends and family. Rest in peace.
Ad blocker interference detected!
Wikia is a free-to-use site that makes money from advertising. We have a modified experience for viewers using ad blockers

Wikia is not accessible if you've made further modifications. Remove the custom ad blocker rule(s) and the page will load as expected.